Construction Visualisation
Construction visualisation
Energy projects are increasing in complexity, and ensuring the desired outcomes is reliant on the accuracy of a project's status visibility. Traditionally, project owners rely upon engineering, procurement, construction management, and contractor systems to report project status, which is often out of date and inaccurate.
Whilst these systems may appear robust, often they are not fully utilised and rely on external status inputs, which are not validated. Inaccurate or out-of-date project statuses limits owner influence and intervention, which leads to inferior decision making. As projects become overwhelmed with data, the challenge that faces industry is how to maximise yield from a project's data, and thus empower effective decision making. Centralising data control is the first step.
Our solution interfaces with project legacy systems (which could have multiple owners) to create a data centric environment. Creating relationships within the data sources supports the integrity of data, provides the foundations for model enrichment, and enables effective opportunity and constraint analysis. The second step is to bring accurate, validated, real-time status availability into the data centric environment. Critically, this creates a single source of the truth.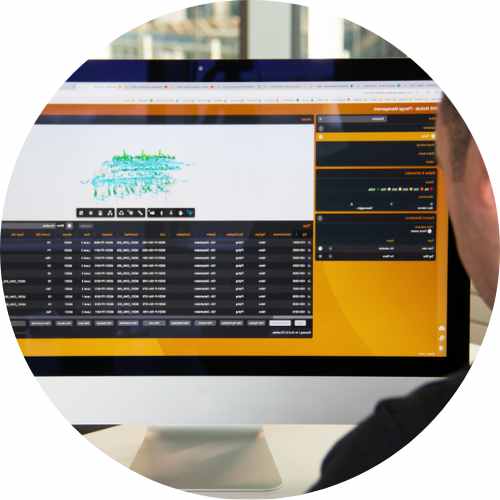 The final step is to share project status through 3D model visibility. Visualising project statuses in 3D models enhances communication whilst providing a greater level of insight compared to traditional reporting. The ability to drill down into specific work scopes, assess plan versus actual, isolate individual contractor scopes, and understand completions statuses greatly improves management decision making. Our project visibility services create the opportunity for project owners to influence outcomes and intervene when applicable. Clear and visible line of sight empowers informed decision making, improves communication, and supports commercial protection if needed. Our solution creates most value when applied early in the delivery cycle, yet can also be applied quickly during projects where status visibility is poor, and line of sight is urgently required.
The selection tree provides visualisation within multiple execution contexts, improving accessibility for multi-discipline field teams. Default trees include schedule, discipline, sub-system, work packs, test packs, and opportunities & constraints. Users can also create custom trees based upon contained attribute data such as P&ID. Selected tree elements automatically update the model viewer and tag section enabling further filtering or simple export and sharing capability.
Execution context
Default views & customisable additions
Intuitive navigation workflows
Interacts with the model viewer
Filters the tag selection
Status covers all disciplines from engineering, construction, completions, and commissioning. These are uploaded using simple templates or custom-built APIs to existing legacy systems. Users can select different status types, which can be applied across all selection trees to update model colours. A legend is automatically added to exported visuals highlighting status filter and selection criteria.
Covers all disciplines
Engineering through commissioning
User selectable
Export visuals for sharing
Customisable colours and status gates
Tag data is automatically generated based on tree selections or by selecting elements within the model viewer. Tag attributes contain specific information including tag type, system, sub-system, area, work pack allocation, and status. These can be configured to user needs. Tag data can be searched by or filtered to, which updates the model viewer, and can be easily exported for sharing and further analysis.
Accessible
Filterable
Exportable
Customisable
Multiple attributes
Understanding & analysis
Do you have any questions?
If you have any questions, feel free to contact us at any time.